7 Smart Devices Every Mom Needs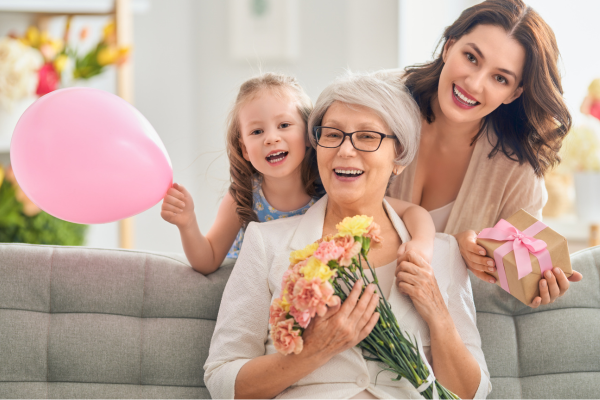 Need a Mother's Day gift? Upgrade with any of these eight smart devices for your Smart Home!

It's no surprise that motherhood is filled with more than its fair share of challenges. This Mother's Day, instead of gifting the usual flowers and chocolates (which are always a great idea), upgrade your gift giving to something that's useful all year round—not just on her special day.
Whether you're celebrating a soon-to-be mom, a new mom or a special mother figure in your life, we're here to help you show your appreciation for all that she does. From gadgets that help find missing keys to robots that assist with household chores, some smart devices are sure to have her feeling a bit of household relief, while making her everyday life a bit easier.
If you haven't already, transform your smart home experience with Antietam Smart WiFi! These 7 Mom-Friendly devices will pair well with Antietam Smart WiFi throughout your home!
1. Smart Thermostat
Give the gift of comfort with a smart thermostat. With features like auto-scheduling and remote access, these easy-to-install devices help your household conserve energy, save money and keep a balanced temperature throughout the home. Thanks to the smart thermostat, both Mom and kiddos can enjoy their day in full comfort surrounded by the perfect temperature.
2. Smart Plugs
Perhaps the most multi functional and easy to use, smart plugs offer endless possibilities for making life easier and more convenient. Whether Mom wants to have coffee ready in the morning or program lights to turn on and off, smart plugs are a fun, useful product that can help run the household smoother than ever. Finally, Mom can easily drift off to sleep to the sound of her fave TV show and know that "lights out" will happen whether she's dreaming or not.
3. Bluetooth Tracker
Being a parent often means that you're toting along more than just your items. Thanks to Bluetooth trackers, Mom will never misplace her keys, wallet or diaper bag ever again. Small enough to attach to nearly anything (including your pup's collar), a smart tracker makes it easy to find important things when you think they're lost—even if they're in your hand.
4. Robot Vacuum/Mop
Give Mom the opportunity to put her feet up while the robots do the work! A robotic vacuum has various options for nearly any type of flooring, a robot vacuum (also available with mop capabilities) will clean up pet hair and simple everyday messes without assistance. Whether she's putting away the groceries or taking a walk, Mom can control the device with the tap of her finger—and just like magic the floors are clean.
5. Smart Lock
With help from a smart lock, Mom doesn't need to worry about juggling multiple things at once while also making sure to lock the door. Give her the gift of convenience with help from a keyless entry. They also provide convenience and peace of mind when Mom can lock and unlock the door from anywhere on her smart device.
6. Smart Charging Stand
As tech moves away from one-time-use batteries, the collection of charging cords for every device can easily get out of hand. Help Mom say goodbye to the endless tangle of cords with help from a wireless charging station. Perfect for keeping things tidy and saving precious space on the kitchen counter or bedside table, Mom can rest easy knowing that all of her devices will be fully charged when she's ready to take on the day.
7. Virtual Assistant
Every Mom deserves an assistant, right? A Smart Home hub can help with calendars, reminders, recipes, grocery lists, stream music and more! Working together through automation, virtual assistants provide the perfect way to control all smart devices from one location. Powered by artificial intelligence, Mom can get answers to questions like, "How many ounces are in a cup?" next time she's baking cookies, know what events are coming up in her calendar, or ask it to turn off the Smart TV when it's time for the little ones to get some rest.
Don't forget - Mother's Day is May 14th!