August 1st - World Wide Web Day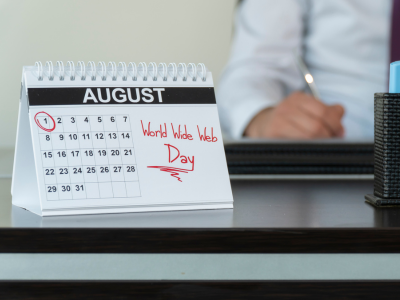 We celebrate the World Wide Web day every day! Bringing the world to your fingertips is certainly a powerful feeling.
We celebrate World Wide Web Day by getting online, taking selfies to post on social platforms, taking notes from podcasts, holding VoIP conferences to discuss the weather (and work of course), backing up our data to servers across the world, syncing photos for the whole family to see, booking our doctor's appointments online and generally expressing our opinions in discussions which are oftentimes much ado about nothing.
The World Wide Web was conceived by Tim Berners-Lee in 1989 at the CERN center in Geneva, Switzerland, as a way for him to communicate with co-workers via hyperlinks. A quarter of a century later, WWW has become the main means of interaction, transaction and communication among humans, opening the door of opportunity for people in ways that would have been unimaginable to previous generations.
Here are some other facts that you may not know about the World Wide Web…
The first computer used by Sir Tim Berners-Lee as a web server was a NeXT computer.
This computer was also used to write the first web browser, WorldWideWeb.
It was announced that the World Wide Web would be free to anyone in 1993.
The launch of the Mosaic web browser in 1993 was a major turning point for the World Wide Web. It is credited with popularizing the World Wide Web.
While the first popular search engine is known as Yahoo! Search, it is believed that Archie was the first of its kind. This was the first tool for FTP archive indexing, enabling people to locate specific files.
Learn more about WWW day here.
Are you connected to the World Wide Web by Antietam Internet services? We hope you are also enjoying the ultimate online experience by pairing it with Antietam Smart WiFi - a whole home WiFi solution! Enjoy the Internet outside, bed side, or watching a movie on the couch.