Help Support the Maryland Food Bank
Inflation has hit Marylanders with such force that the average household is spending nearly $500 more per month to purchase the same goods and services as they did a year ago—and the lowest-income households are being hit the hardest. A staggering one-third of Marylanders are at risk of facing hunger this year, and many of them are seeking assistance for the very first time. We need YOU to help the Maryland Food Bank - Western Branch meet this growing need.
More than 43,500 individuals in the Western Branch service area are food-insecure. Of those struggling with hunger, more than 18,000 are children.
The Maryland Food Bank – Western Branch distributes food to four counties in Western Maryland: Washington, Frederick, Allegany, Garrett.

Thank you for your support to the Maryland Food Bank, your monetary donation will have TWICE THE IMPACT!
Antietam Broadband will match donations made now through November 30, 2023.
Antietam Broadband is matching funds up to $5,000 total.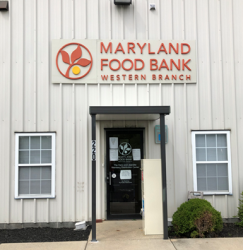 Food Drop Off
Drop off shelf-stable food items at the Maryland Food Bank - Western Branch office during the following days and times:
Tuesdays 8:00am-12:00pm
Wednesdays 8:00am-4:00pm
Thursdays 8:00am-4:00pm
220 McRand Ct Hagerstown, MD 21740
For donations outside of business hours, there is a steel hopper near the front door into which items can be deposited.

Your involvement directly impacts the well-being of our neighbors in need. Thank you for your kindness.
With gratitude, The Maryland Food Bank and Antietam Broadband
Suggested/most needed food items include:
Canned Proteins - tuna, salmon, chicken, peanut butter, beans
Pasta and Rice - brown and white rice, macaroni and cheese, pasta
Canned Vegetables - low sodium, no salt added
Fruits and Juices - in light syrup or its own juices, fruit cocktail, apple sauce, juice boxes
Breakfast - cereal, oatmeal, quick oats, granola/cereal bars
Soups and Stews - low sodium, beef stew, chili, chicken noodle, vegetable, turkey and rice
Dairy - shelf-stable milk, evaporated milk, infant formula